The IVS SerCon software is a MOS Gateway and the Studio Play-out solution. It`s task is to connect to the Octopus NRCS and control the video and CG servers and teleprompters. The IVS SerCon provides a professional solution for users wanting a robust and reliable Play-out system for their news and live programs.
Our IVS SerCon uses MOS based integration between the Octopus newsroom system and the Venice video server. This provides a full cycle solution for accomplishing TV production, news and other TV programs.
For live Play-out operation typically 4 channels can be utilized. These can be matched with several Running-orders and as well there is an option for video positioning and trimming on each channel. The order of the Running-order materials may be changed via the User Interface or in the Octopus System while in operation.
The status of the Venice video server storage (capacity, accessibility of videos, etc.) is being displayed in the software. The IVS Sercon provides the possibility for managing placeholders and videos, while the Pay-out status is indicated in the Octopus system.
The server-client application enables the User to set up the number of clients. Besides the video Play-out the system contains the necessary components for advanced graphics. This is managed by a separate CG server.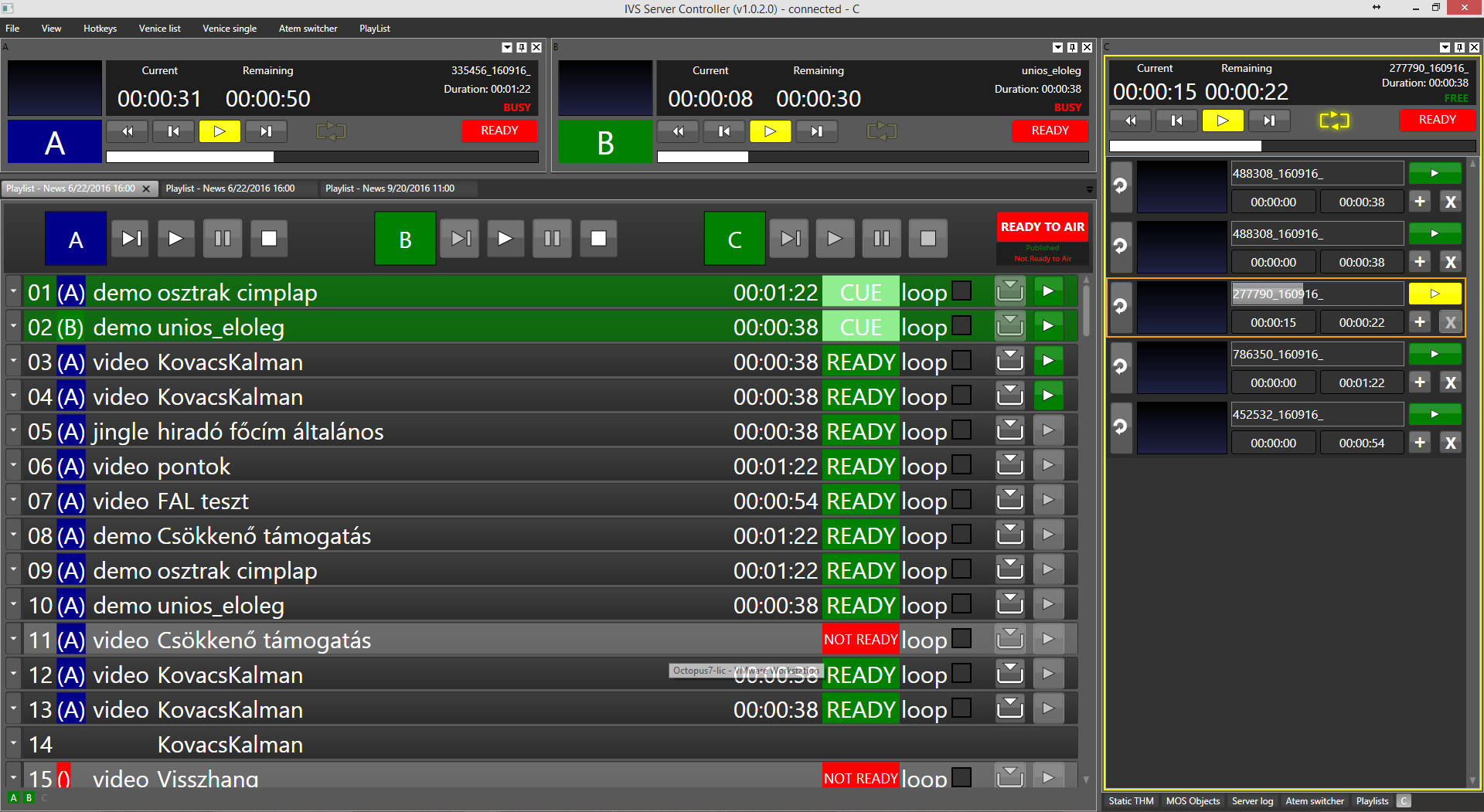 Octopus newsroom running-order management for playout and status feedback
MOS connection with Rohde& Schwarz Venice video server and CG Server(s)
Multiple Venice server device controlling
Multiple channel control at same time
SDI switcher&router control from UI (option)
Server / Client processing
Complete CG solution with controlling CG elements
Separate or unified CG & Video management
Automatic video list editing from Octopus
Test mode capability (feedback off)
Venice storage capacity display, optional autodelete capability
Custom-setup, modular User Interface
MOS 2.8 protocol
Internal database
Client number restriction
Video approvesolutionfor NEWS and PRODUCTION
Placeholder, RO management
---
Face
graphic template designer

---
FaceM


simple graphic template designer